France Kitchen was born from the association of one industry manager and two French companies renowned for their Kitchen, Hospitality and Catering equipment. Our products are present throughout the world and are designed with Quality and Durability in mind.
Tournus, leading french manufacturer of stainless steel equipment for professional kitchens
Tournus Equipment, whose origins date back to 1910, is the top French manufacturer of stainless steel equipment for professional kitchens and sales counters for fishmonger departments. With a wide range of materiel and a high manufacturing volume, the plant situated in Tournus in the Bourgogne region is one of the biggest and most modern within this profession. Today, Tournus' Stainless Steel equipment includes: stainless steel trolleys, fishmonger counters, hand washing units, stainless steel kitchen units, dishwashing facilities, shelving and tables….Tournus products are designed for use under difficult conditions.They are released onto the market only after undergoing rigorous testing that is much more demanding than the standard testing required.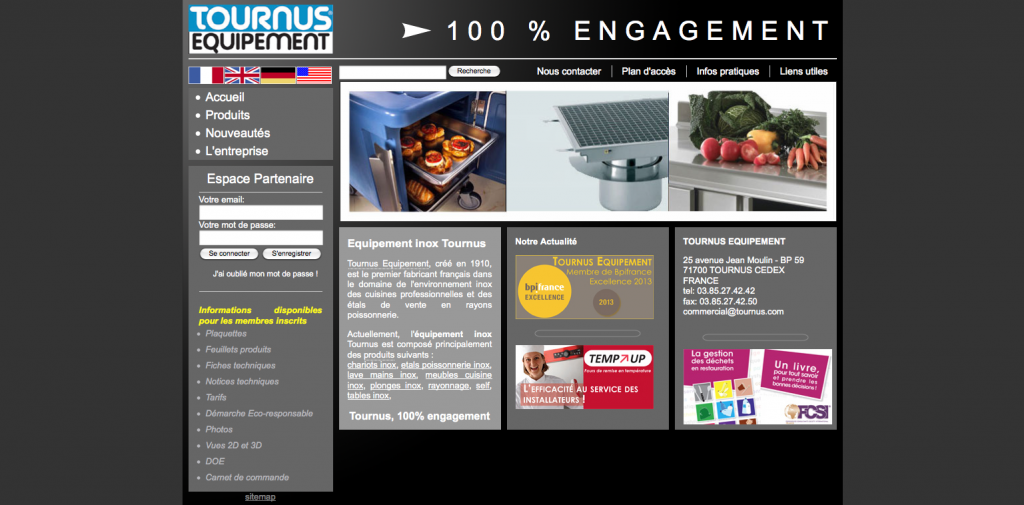 Charvet, authenticity in the kitchen
At Charvet, creating cooking equipment for the food service and restaurant sectors has been a vocation for almost 100 years now. It is at Charavines, a village in the Dauphiné region that this industrial tradition continues. As if reflecting the backdrop of the Mountains surrounding the factory, CHARVET builds impressive equipment destined to last, using only the best material and methods for manufacturing. The respect of both culinary traditions and the precision and detail that goes into the creation of heating and regulatory elements, guarantees the lasting performance of equipment signed CHARVET. The simplicity of the controls makes the use of the equipment both intuitive and precise. Simple lines and the care taken when finishing the products results in easy to look after equipment with excellent hygienic performance.
When aiming for Perfect Assembly and Finish there can only be one answer :Hand-Made
Controlled at every step of manufacture (EC standards), then assembled on the factory floor, Charvet products are prepared under the supervision of a critical eye before being installed in your kitchen. There is no automated line to ensure the exact fit – only the hand of the specialist who measures, who checks every line, every joint, who polishes, who cares…